Michigan's Top Pondless Water Feature Contractor
Pondless Water Features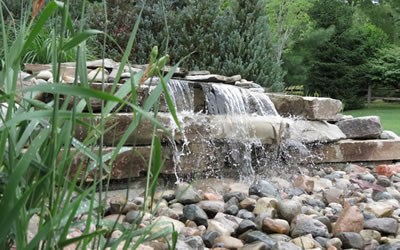 Turn your backyard into a peaceful retreat with the soothing sound and movement of water. Whether it's a cascading waterfall, an elegant bubbling brook, or a fountain, we can help you create a slice of paradise in your own backyard. Each water feature designed and created is a unique concept combining Michigan Shoreline stone, commercial grade liners, fabrics, and plumbing. We integrate your interests and desires with the beautiful accents of nature.
Sherwood Landscape Construction exhibits innovation, quality, and passion for their craft. It is important to us, that your dreamscape reflect your personality. If you can dream it, we can build it.
FENG SHUI – "Moving water brings prosperity and good luck to your home."
Great owner and crew! Very respectful and easy to work with! Amazing designs and both fast and efficient with their work! I highly recommend this company! You won't be disappointed!