Michigan's Top Outdoor Living Space Contractor
Outdoor Living Space – Kitchen & Fireplace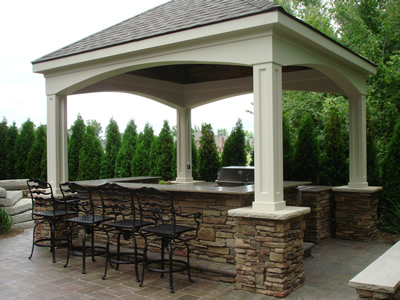 Outdoor living is bringing the comforts of your indoors to your outdoors. Imagine a grand walkway under your feet as you approach your stunning outdoor oasis, a visually breathtaking scene indeed. Inviting spaces, all of their own purpose and beauty draw you, your family and guests in, to relax and enjoy the resort feel of your very own outdoor dreamscape.
Kitchens are the undisputed heart of the home where everyone gathers during parties and special events. With the help of our creative and knowledgeable team, you can achieve this appeal outdoors. A pavilioned outdoor kitchen, with surround seating, allows you to serve and entertain your guests while being able to be a part of the gathering. Guests can relax on one side while you're cooking or serving on the other. Outdoor kitchens possess all of the kitchen components needed for entertaining such as refrigerators, barbeque grill complete with rotisserie and side burners, wood-fired oven, lighting, access doors for storage, electrical outlets etc… have all that you need right at your fingertips while staying connected to your guests. Allow our creatively inspired team, who are masters of the art of quality dreamscapes, to build the outdoor kitchen of your dreams. Our team prides ourselves on imagination, and desire for every detail of your outdoor kitchen, to translate what we build as functional art.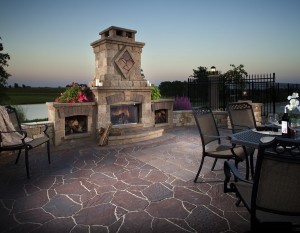 Just as an indoor gathering, guests tend to gather after dinner around a fireplace to repose and connect. Allow our team of Licensed Authorized "Unilock" Contractors to build an enchanting outdoor living room with a majestic outdoor fireplace as its focal point. This living space may be framed in with seat walls to accommodate additional guest seating. Used all year round, your outdoor fireplace can give you an atmosphere of warmth and ambiance. Be it under the stars on a cooler summer evening or sipping cider on a brisk fall afternoon, the comforts that an outdoor fireplace can offer are endless.
Bringing all the comforts of the indoors to your outdoors creating grand spaces for large gatherings or intimate tucked away hide-aways.
Like your indoors is decorated with art so can your outdoors. Our creative team can bring life to your outdoors from creating pondless water features, to adorning your living space with nature's botanicals.
Outdoor living space is an addition to your house that can double the square footage of your home, adding value to your home while improving your lifestyle and is maintenance free.
Our team is eager to take your ideas from concept to completion for you to have that special place to retreat to without ever having to leave your home.
Sherwood Landscaping is a top-notch landscape and construction company. They are fully staffed and you are not just hiring a guy and his bobcat. They take the entire job and make sure no detail is missed from the very beginning to the very end. It does not matter if you are dealing with their fantastic office manager or one of their workers in the field, they treat you like you are number one. Without hesitation, I recommend that you use Sherwood Landscape Construction. Bob and his staff will not let you down.