French Drain Man
When You Want it Done Right the First Time
Protect Your Home with a Yard Drainage System
When most people think about landscaping, they picture the careful crafting of nature and hardscape structures. But in order to fully enjoy your outdoor oasis you need to make sure water is being carried away from your home and yard.
Standing water does more than compromise your landscape and hardscape features, it can cause serious damage to your home's foundation and is often the reason for flooded basements and crawlspaces.
Many Michigan homeowners face yard drainage issues for a variety of reasons. We find that the most common drainage problems are a result of inadequate grade or slope of the property. This improper grading can be the result of landscape that was installed incorrectly or it can simply be the land your house was built on.
French drain and yard drain systems are the best solutions to divert water away from your home and are engineered to be low-maintenance if any maintenance at all. A properly installed French drain system should require no maintenance and should last hundreds of years, outliving the homeowner.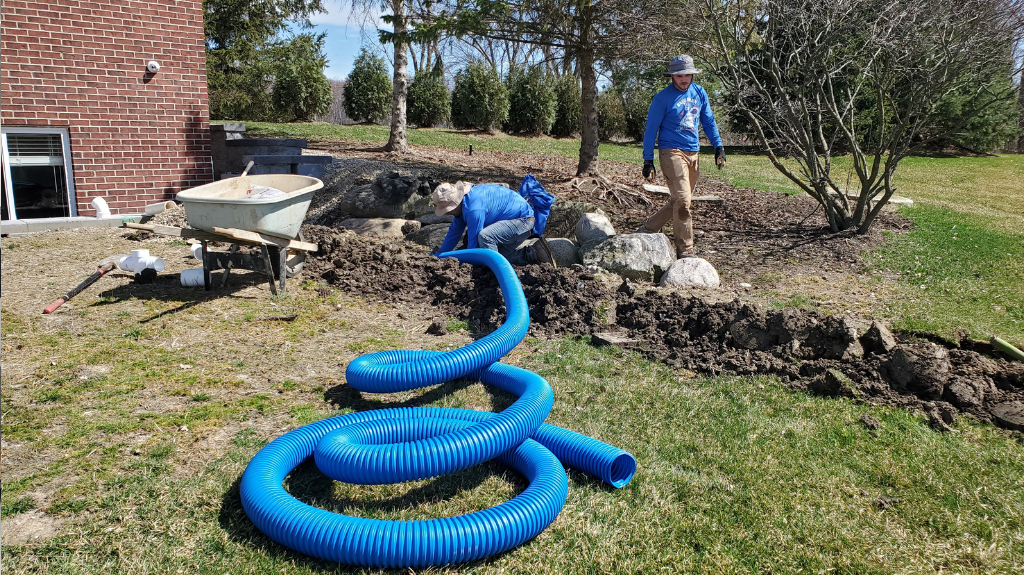 Why Hire Us?
30 Years of Experience
Professional Consultations
Top Quality Materials & Supplies
Competitive Pricing
Timely Completion
Written Warranties
Specializing in Outdoor Living
Passion for Our Craft
French Drains
Yard Drains
Curtain Drains
Buried Downspouts
Roof Runoff Systems
Channel Drains
Outdoor Sump Systems
Indoor Sump Systems
Sump Pump Discharge Lines
Regrading and Excavation
Pond Digging
Commercial and Residential Drainage
The French Drain Man Advantage
Not all drainage contractors are equal. Choosing the wrong contractor can result in yearly maintenance, poor drainage, or even the need for the system to be replaced. The key to having a long-lasting French drain is to have it properly installed with the best materials by a trusted drainage contractor.
French Drain Man has over 35 years of experience helping Michigan homeowners with their drainage needs. From the positive customer reviews to the innovative products they offer, it's clear that French Drain Man is leaps and bounds above other drainage contractors.
The Best Fabrics A non-woven geotextile fabric that is double punched is used for all our French Drain systems.
High Octane Drainage Pipe The first Drainage Pipe made specifically for yard Drainage, crawl space, interior basement de-watering, and exterior basement waterproofing
FDM Custom Drainage Products FDM has manufactured their own products to elevate the drainage industry including a chambered sump pump system, FDM's Pop-Up Emitter 2.0, and FDM's inline catch basins.
When you invest in the best for your landscaping needs, it only makes sense to invest in the best for your yard drainage needs with French Drain Man!
The back of our yard really holds water like there is no tomorrow. I have had an awesome experience from the first visit, for the estimate, to the last visit, installation today! They took the time needed to do the job right and it turned out fantastic.
I asked them to dump some of the dirt over to the side of my yard. I explained that I have another spot that is low and I want to clean it up. So not only did they move the dirt over, they also spread it out, saving me a big back ache.
They will be back in August to add downspouts after my new siding has been installed. This entire company was awesome to work with!!