Sherwood Landscape Construction is the top choice for Oakland County Landscaping: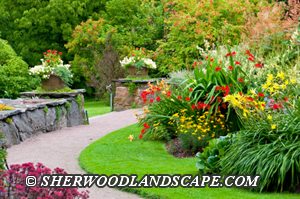 Sherwood Landscape Construction is an award winning company that can handle all areas of your Oakland County Landscaping needs. Our staff can transform your front or backyard into anything your heart desires. Our designers create landscapes that are timeless and grow more beautiful with age. Your landscaping can contain an array of components including plantings, brick pavers, retaining walls, waterfalls and features, outdoor living areas, outdoor kitchens and fireplaces, landscape lighting and much more. Sherwood Landscape is also a drainage specialist to help your landscaping thrive. Your property is our canvas, and Sherwood Landscape Construction is creating works of art throughout Oakland County Landscape.
Sherwood Landscape Construction has over 30 years of horticulture experience.  Landscaping is an expression and should reflect the homeowner's personality. Applying three decades of knowledge and experience, our craftsmen design with the future in mind to create a timeless landscape, which grows richer with age, for as long as you live in your home. We have the knowledge to know what grows well in the soils of your Oakland County Landscaping. Approximately 70% of Oakland County is populated with deer. Sherwood Landscape Construction knows what to plant and what to avoid planting in your Oakland County Landscape to be deer resistant. We have found through our experience of working in the area what deer eat and what they avoid. Because deer are vegetarians, landscape plants serve as increasingly important food sources, especially in the winter months when food for the deer is scarce.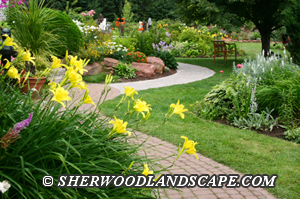 We can create a balance in your Oakland County Landscaping where energy moves throughout the landscaping and having happy healthy, properly placed plantings are part of the flow of energy. The color of the plantings has a strong impact on the flow of energy in your landscaping. Cooler colors like white and purple are soothing. Hot colors like red and yellow will lift energy in your landscape. Balance incorporated in your landscaping encompasses harmony in plantings and flowers. The key to good planting design is to pick the correct plant for the correct location in your Oakland County Landscape. Our design team has a working knowledge of a large variety of trees, shrubs and perennials. Your new plantings will provide you with a beautiful four season display. Our goal is to not only have your new plants survive but to thrive. We practice only the best installation techniques, looking at your soils, sun and water conditions so, once again, we pick the right plants but also make sure the environment is correct for the plants chosen.
Sherwood Landscape Construction proudly stands firm not only on the integrity of our designers but also the integrity of your finished product. The foundation of your custom Oakland County Landscaping is built literally from hands and knowledge based on integrity.
Oakland County Landscaping
Contact Sherwood Landscape Construction for your free in home consultation 810-673-3144.