Oakland County Landscaper Explains the Importance of Planting Evergreens
A house without foundation plants is like a painting that is missing it's frame.  Landscaping  in front of your home will not only hide your home's foundation but add beauty and increase the value of your Oakland County home significantly.  Foundation plants enhance your home all year long. Using evergreens as foundation plants are the best choice because they help to tie the greenery in with the colorful surrounding landscaping.
Evergreens provide four-season foliage that makes them the ideal choice for Michigan seasons. They are practical, plants that require little maintenance and are suitable for many growing conditions. When other plantings are dormant throughout the colder months, evergreens  will still add some color to your foundation. Good foundation shrubs should be hardy and long-lived. Unlike other plantings, evergreens don't drop leaves when winter starts. Evergreens remain vibrant and full of color all year long, even in the colder months.
Evergreens can frame in the entrance way to your home providing a sophisticated look. They can also be placed as a back drop to your landscaping and provide a unique design stand out and give an eye catching appearance. They work very well as a decorative tool in your landscaping. Landscape designs should have evergreens to provide year-round curb appeal to your home.
Oakland County Landscaper Explains the Importance of Planting Evergreens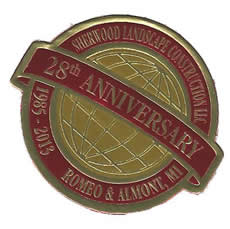 Sherwood Landscape is a Oakland County landscaping company that has been taking client's ideas from concept to completion for 28 years. For more information, call: 810-673-3144.
To hire an Oakland County landscaper, Call: 810-673-3144